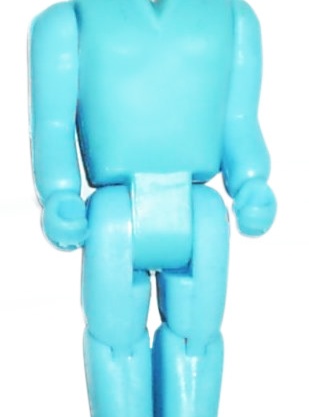 Action Jack figures were cheap and cheerful plastic-jointed three-inch high action toys with loads of accessories. I had a lot of Action Jack characters and used them to drive my
Lego vehicles
. When you bought them they came fresh in a boy or on a blister-style card.
Action Jack was released by Star Toys towards the end of the seventies, but could still be bought until very recently. There were around seven different sets of Action Jack that ranged from the 'Rescue Team', 'Space Explorer', 'The Road Builder' and 'Snow Patrol' two figure original sets to the Western, Military Action and Action Jack Soldier single figure sets.
You could pick up the Action Jack figures for quite a reasonal price back in the 70s (around 25p-30p) but they were very simple compared to the likes of
Action Man
. Action Jack's knees bent thanks to a simple joint, but his arms were fixed in a slightly bent position meaning they always looked fairly rigid.
The accessories that came complete with Action Jack varied depending on the characters you bought. For instance, the Action Jack Rescue Team (who looked so identical they must have been twins) came complete with a walkie-talkie, oxygen tank, megaphone, hat, handcuffs, truncheon and gun (presumably if things got nasty) as well as an axe, a stop and go sign to halt traffic and of course, a helmet. Because of the very solid nature of Action Jack it could be pretty difficult to attach these accessories on.