Advertising on Do You Remember
DoYouRemember.co.uk is delighted to be able to offer a range of cost effective advertising and sponsorship opportunities to help promote your business:
Banner advertising
Sponsored product pages
Newsletter sponsorship
Competition sponsorship
Giveaway / product launch promotions
Competition sponsorship opportunities are available if relevant to the content of the site. Promotions are broadcast to a large audience including Facebook and Twitter communities.
Please see usage statistics below for an indication of the amount and type of traffic that DoYouRemember.co.uk recieves.
Usage Statistics
50,000+ unique visitors per month
100,000+ page impressions per month
9,000+ registered users
27,000+ followers on Facebook
Visitors mainly from the UK and the USA
Over 5,500+ items listed
Online since March 2004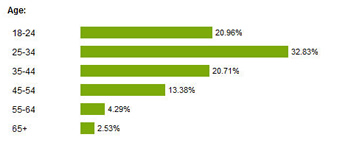 For more information on advertising with DoYouRemember.co.uk, or for details on discounts/ special offers or custom sponsorship packages please contact us by email michael@doyouremember.co.uk or by telephoning +44 (0)1202 847168
Media Coverage
DoYouRemember.co.uk has received a lot of positive media coverage and has been featured in newspapers, on the radio, on websites and even on TV!
USA Today
"Gen-X nostalgia has been a Web staple since the debut of the 80's Server, but this site has a different angle: They want to hear what you remember from those long-ago decades. Think of it as a fine substitute for the class reunion you're skipping this year because you couldn't possibly be old enough to hang out with a bunch of old people (who just happen to be your age, or so they claimed at the time)."
First Coast News
ABC25 NBC12
The DoYouRemember.co.uk website was featured on the "Good Morning Jacksonville" TV show in the website of the day feature.
BBC Southern Counties Radio
Following the announced return of the Krypton Factor to the BBC, DoYouRemember.co.uk webmaster Michael Johnson provided three interviews with BBC Southern Counties Radio to discuss this exciting development.
Media Assistance
DoYouRemember.co.uk is frequently featured in newspapers, magazines, on the radio and on television. It is widely used by nostalgia seekers, researchers, television production companies and academic institutions.
DoYouRemember.co.uk is delighted to have been able to assist various television production companies, radio stations, magazines and institutions including:
The BBC
The Oxford English Dictionary
The British Library
Channel Four
If you would like to interview the creator of DoYouRemember.co.uk, Michael Johnson, please contact us by email or telephone +44 (0)1202 847168